HOUSTON — There's nothing cuter than seeing the little cowboys and cowgirls all decked out for RodeoHouston! It's an age-old family tradition in Houston and parents who grew up going to the rodeo are now taking their own children.
You can easily keep your kids entertained for hours with everything the Houston Livestock Show and Rodeo has to offer from petting zoos and pony rides to a nursery for newborn farm animals.
Here are a few family-friendly options.
AGVENTURE
AGVENTURE in NRG Center is a great way for city kids of all ages to have fun while learning about farm life. You can get up close and personal with all kinds of livestock from bulls to bunnies.
Watch baby chicks hatch and if you're lucky, you may even see other animals giving birth at the birthing center.
The petting zoo and pony rides are also popular with the pint-sized cowpokes.
AGVENTURE is open daily from 9 a.m. to 9 p.m.
Birthing Center
Most people have never known the joy of watching a cow, sheep or pig give birth but you might get your chance at AGVENTURE'S birthing center.
That's where you'll find several four-legged mamas-to-be that are due any day.
"A lot of the deliveries, the births, we want Mother Nature to do as much as she can, if not all," Birthing Center manager Rich Knebel told us in 2022. "But we're there to assist if things happen because things happen sometimes."
You can also see adorable newborn calves, lambs and piglets napping or nursing.
Pony rides
Small children can saddle up and ride adorable Welsh ponies that walk carousel-style with their young riders.
It's $10 per child with professional photos available for an additional cost.


Petting Zoo
You don't have to be a kid to enjoy interacting with the animals in the petting zoo.
Children and adults of all ages will enjoy watching the goats, llamas, deer and other animals play with each other and their visitors.
Watch out for the naughty goats that might untie your shoestring or tug at your shirt!
We're Small Y'all Barn
Speaking of cute animals, you can enjoy different types of miniature farm animals that call this barn home.
Many of the miniature livestock breeds today were bred to their small stature over generations. Come learn why sometimes smaller is better!
The Junction
Previously called Kids Country, The Junction features carnival rides and games geared toward younger children.
Mondays – Fridays: 11 a.m. to midnight
Saturdays and Sundays: 10 a.m. to midnight
Mutton Bustin'
In addition to the beloved Mutton Bustin' action each night in NRG Stadium, 5 and 6-year-olds weighing 55 pounds or less can try to hold on tight to a sheep for eight seconds.
The cost is $15 per ride and participation is on a first-come, first-serve basis.
It starts hourly between 10 a.m. and 7 p.m.
Pig races
These perky piglets race around a 150-foot track in only a few seconds as the crowd cheers. There are sweet treats awaiting them at the finish line!
Times: 11:30 a.m., 12:30, 1:30, 3:30, 4:30, 5:30 and 6:30 p.m.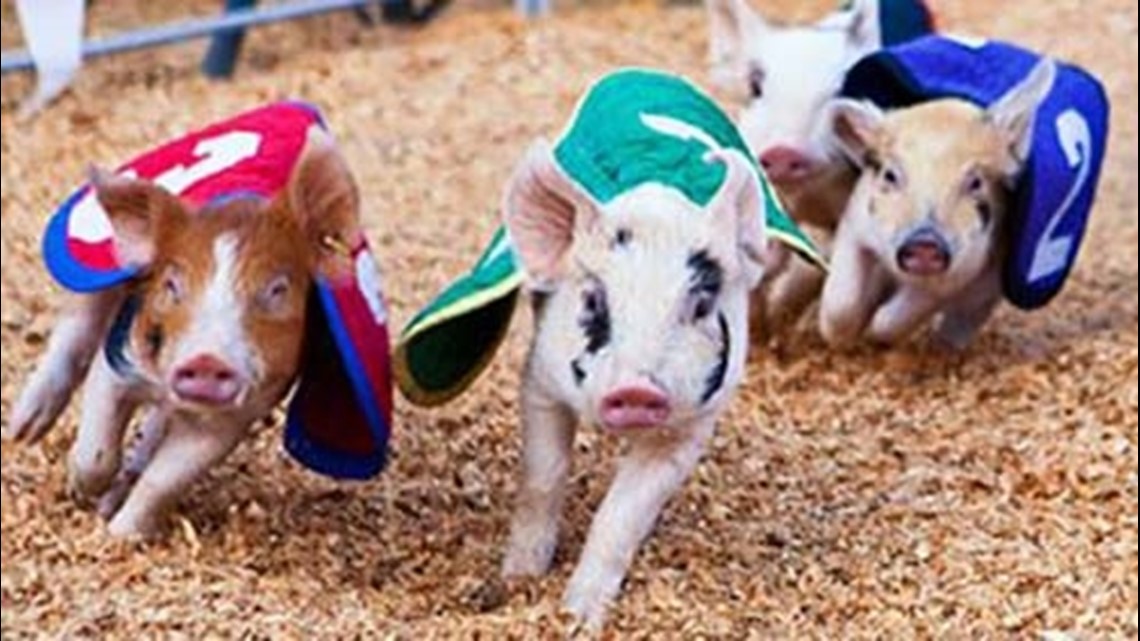 Fun on the Farm
Fun on the Farm allows children to explore the world of agriculture by following the process of producing products, from farm to market. They can also help with farm chores like gathering eggs and milking a cow. Be sure and check out Goat Mountain, where goats frolic on a rocky hill.
Extreme Dogs
These talented pooches perform tricks and stunts to entertain the crowd.
11 a.m.
1 p.m.
4 p.m.
6 p.m.