But for many, nothing will register more than returning to the site of The Slap. In a way, we're all still living in that frozen-in-time moment. Chris Rock's face twisted to the side. Will Smith's arm dramatically extended. A deathly hush over the Dolby Theatre.
For the first time, two sequels ("Top Gun: Maverick," "Avatar: The Way of Water") are nominated this year for best picture. But this year's Oscars – whether they like it or not – will be a sequel, too, just one without the main stars in attendance. Smith has been banned by the motion picture academy for 10 years. Rock has been sticking with stand-up.
Host Jimmy Kimmel — who had been on the Dolby stage in 2017 for The Flub, a moment of Oscar infamy now practically forgotten — has said he will address The Slap. It would be "ridiculous" not to, he told The Hollywood Reporter.
The Academy of Motion Pictures Arts and Sciences, too, is making preparations. After a sluggish response to Smith's actions that academy president Janet Yang has called "inadequate," the Oscars will have their first ever "crisis team" to react to surprises. Kimmel, who has hosted twice before, was brought in partly to have a steady hand on the telecast, which will restore all categories to the live show. Kimmel is the first solo host for the show since the last time he hosted, five years ago.
"We learned from this that the academy must be fully transparent and accountable in our actions," Yang said at the luncheon last month, "and particularly in times of crisis you must act swiftly, compassionately and decisively for ourselves and for our industry."
Kimmel's challenge will be to reference The Slap without allowing another Oscars to become defined by it. Last year, after Smith's blow and his subsequent yelling from his seat, the Academy Awards stumbled hazily through the rest of an airless ceremony, taking the spotlight away from the landmark win for the deaf drama "CODA" and documentary winner "Summer of Soul," the award Rock presented to Questlove. Smith also won his first Oscar, for "King Richard." He didn't apologize in that moment but did in a statement the following day. Smith soon thereafter resigned his academy membership.
This year, "Everything Everywhere All at Once" comes in with a commanding 11 nominations. Though an unlikely Oscar frontrunner, Daniel Kwan and Daniel Scheinert's multiverse mash-up is expected to win best picture after sweeping the top guild awards. The Daniels, as they are known, are favored to best Steven Spielberg for best director. Former child star Ke Huy Quan is seen as a lock for best supporting actor. Michelle Yeoh could become the first Asian best actress winner.
CAN ANYTHING STOP 'EVERYTHING EVERYWHERE ALL AT ONCE'?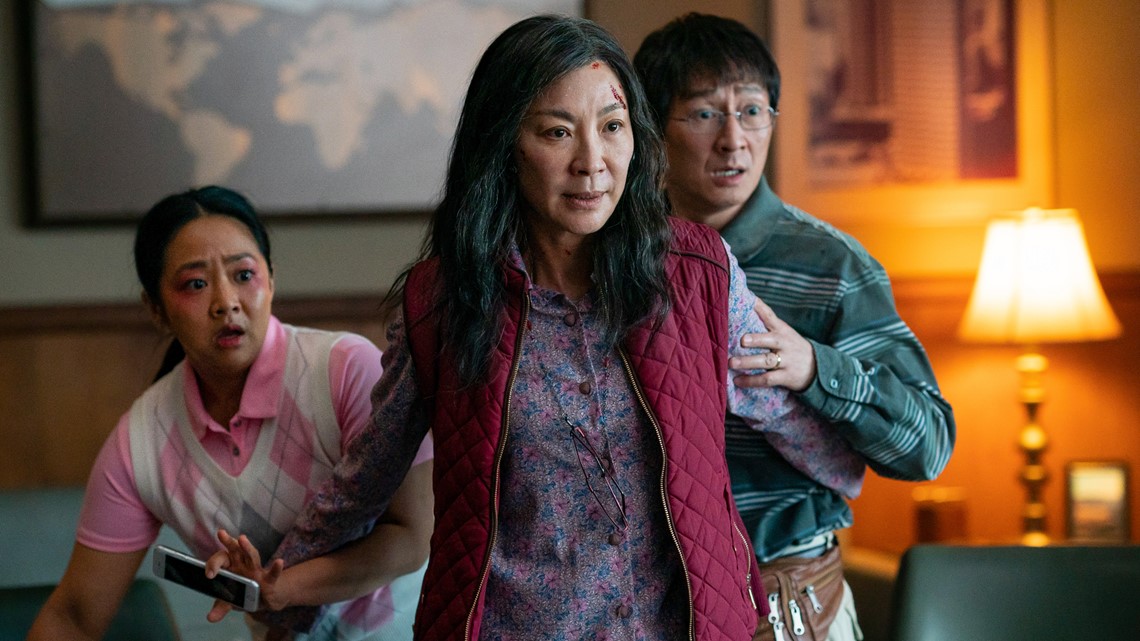 WHO WILL WIN BEST ACTRESS?
Easily the fiercest and most controversy-generating category this year is best actress. It's seen as a clash of heavyweight contenders in first-time nominee Yeoh and two-time winner Cate Blanchett, for "Tár." Either could go home with the trophy. But much of the drama came in nominations, where Andrea Riseborough scored a nod for the little-seen drama "To Leslie" after a host of celebrities led an A-list grassroots campaign for the British actress. At the same time, two acclaimed Black actresses — Danielle Deadwyler ("Till") and Viola Davis ("The Woman King") — were left out, prompting a debate about the influence of connections, money and race on awards campaigns. Just as the whole affair seemed to be fading, Yeoh on Tuesday, with hours to go in Oscar voting, posted screenshots to Instagram of a Vogue article advocating for Yeoh to win over Blanchett. Academy rules prohibit "any tactic that singles out 'the competition' by name or titles." Yeoh deleted the post. Throughout the race, though, she and Blanchett have each warmly celebrated the other.
WHERE ARE THE STREAMERS?
Last year's best-picture winner, "CODA," marked the first time a streamer won Hollywood's top prize Many of the pandemic-era nominees were released quickly, if not immediately, into homes. This year, it's a very different story. Only one of the 10 films up for best picture came from a streaming service: Netflix's "All Quiet on the Western Front." That film should take a number of awards on Sunday, including best international film and cinematography. Netflix's "Guillermo del Toro's Pinocchio" is also heavily favored to win best animated feature. But after years of Oscar advancement, Netflix and company may experience a setback in the top categories. That happens to coincide with retrenchment throughout the industry in streaming after years of torrid growth.
WILL THE BLOCKBUSTERS BOOST RATINGS?
It's been years since the best-picture candidates were this rich in box office. "Top Gun: Maverick" grossed nearly $1.5 billion worldwide. (Spielberg was overheard telling Tom Cruise he "saved Hollywood" at the Oscar luncheon.) "Avatar: The Way of Water" is the third highest grossing film of all time with nearly $2.3 billion in ticket sales. "Black Panther: Wakanda Forever" ($858.8 million) could land Angela Bassett the first acting Oscar for a Marvel movie, though the supporting actress category remains one of the hardest to call. But historically, ratings have often risen with the popularity of the nominees. Last year's ceremony, perhaps boosted by those who rushed to follow the aftermath of The Slap, drew 16.6 million viewers. That was up 58% from the pandemic-marred 2021 edition (watched by a record low 10.5 million), but still a ways off the viewership of several years ago. Last year's telecast had been billed as a return to normal for the Oscars — at least before, well, you know what. This year will go a long way to determine what's the new normal for the Academy Awards telecast.
WHAT'S THE OVER/UNDER ON SLAPS?
As Kimmel has noted, you can bet on anything at the Academy Awards, including whether anyone slaps the host.
"If you bet $100 on yes – you win $1200 ," Kimmel said earlier this winter on his late-night show. "Which I have to say, seems like they're encouraging someone with a gambling problem to slap me. Right?"