COLLEGE STATION, Texas — The Mays Business School at Texas A&M continues to grow in a direction aimed at helping students succeed. The Wehner Building, which hosts the business school, held its grand opening of its new Student Transformation Center Thursday.
"Its a place where students can come to collaborate, to communicate and can create," said Eli Jones, the dean of Mays Business School.
The student-centric space has high top tables and chairs full of power plugs and other technology. Making knocking out group projects and studying much more accessible.
"It's intended to bring about space where students could gather together and collaborate on projects outside the classroom," said Annie McGowan, the associate dean for Undergraduate Programs.
The new space also includes individual interviews and presentation rehearsal rooms. Students can practice presentations or even use them to have job interviews.
Student Transformation Center at Mays Business School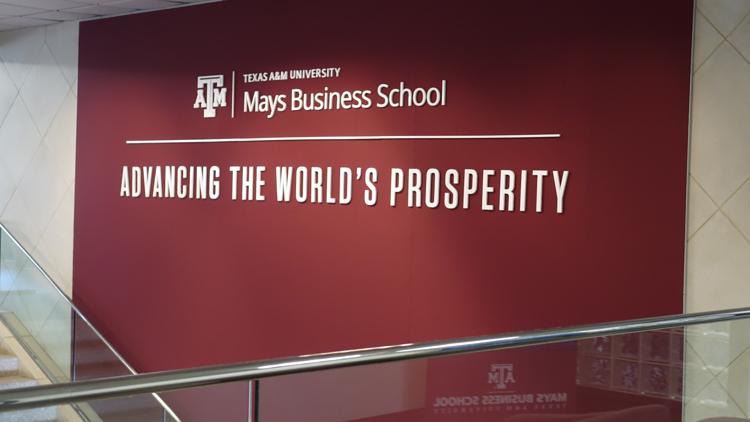 "We can move away from the traditional classroom lecture environment," McGowan said. "Try out some new technology and new ways of communicating with students."
The center also has a prime location in the building. It is on the second floor of the Wehner Building, near offices like the career center, communication lab and more.
The location gives students opportunities to work even closer with faculty.
"We have staff here to help our students to go through role-plays before they go out to the job market," Jones said. "They can visit with our creative staff and get input on how to better communicate during an interview."
Students said on top of the time they already spend at Mays Business School, the new space only encourages them to want and study there longer.
"It is a place for students to come and collaborate, work on creativity and use it as a resource for whatever they need," said fifth-year student and president of the Business Student Council, Ashley Myers.
ALSO POPULAR ON KAGSTV.COM: