The Stop: Inside the traffic stop that changed a Madisonville mom's life
Laura Garcia was pulled over by a State Trooper in 2011. She agreed to have her car searched. What the Trooper found would change Laura's life and who she said put it there would put local police officers' conduct in question.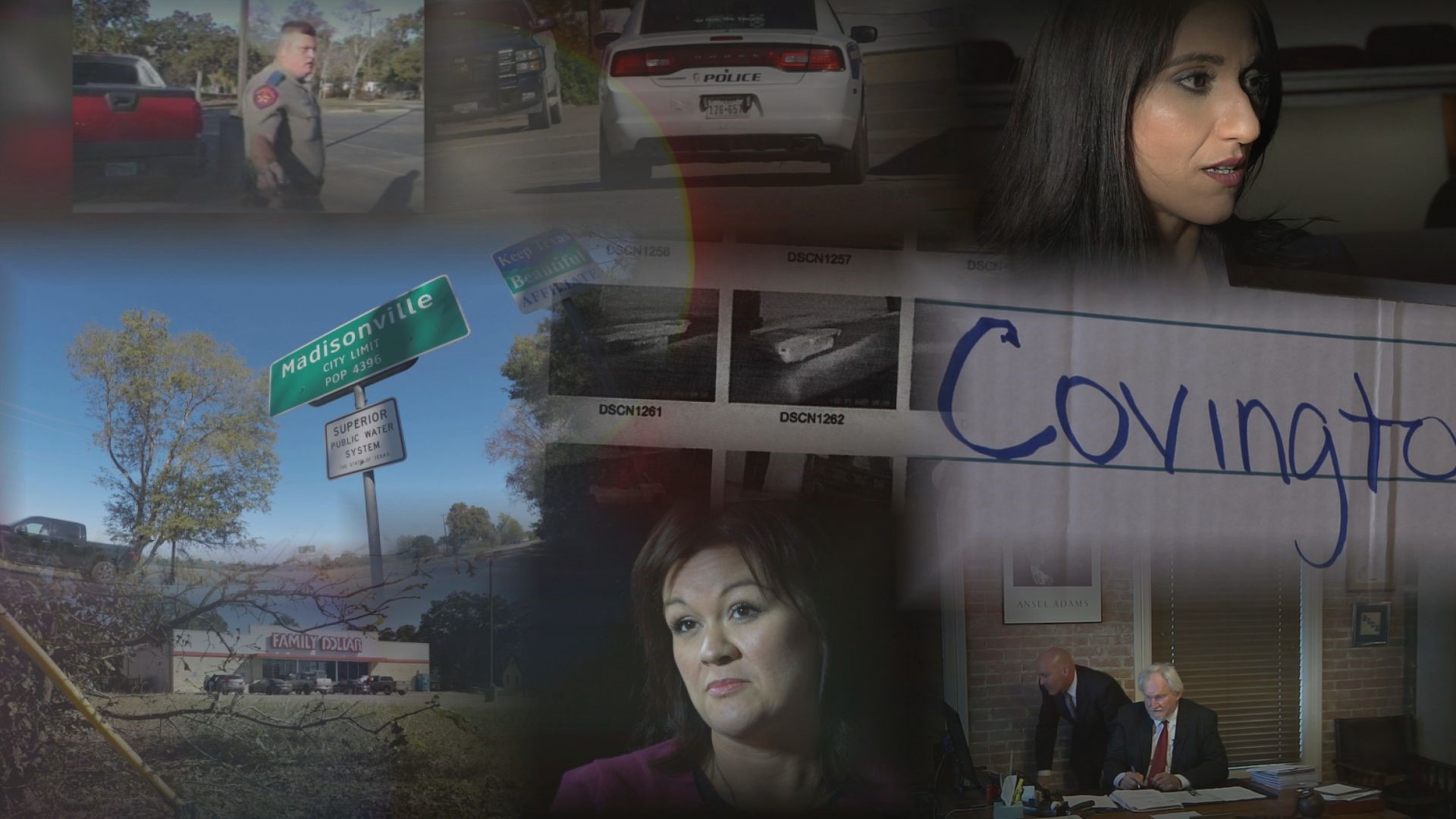 State Trooper Carl Clary is out on patrol. It's early November, 2011. He stops a red Chevy Truck speeding west down State Highway 21 in Madisonville.
The truck pulls over into a Family Dollar parking lot. Trooper Clary approaches the car and identifies himself, telling the driver she was going 53 in a 40mph zone.
The driver, Laura Covington, is pregnant.
"I was pulled over for speeding," she said, adding that she doesn't't speed anymore.
Trooper Clary calls out his location and says Laura's name on the multi-county DPS radio for all area law enforcement to hear. Two minutes later he gets a phone call.
Dash cam video from his patrol car picks up the Trooper making these remarks.
"Hey. Yeah. Probably. Really?"
Trooper Clary will later testify the voice on the other end of the call is Madisonville PD Sergeant Jeffery Covington, a drug cop and Laura's ex-husband.
According to Clary's testimony, Covington asked Clary if he planned on searching the car, reminding the Trooper of a previous conversation the two had months ago. In that conversation, Covington reportedly told Clary where to find drugs in his ex-wife's car.
Trooper Clary asks Laura if he can search the car. She agrees.
"Honestly it was like, its freezing outside, just give me my ticket and let me go home," she said.
Dash cam video shows Clary return from Laura's car and place a small metallic object on his patrol car's hood. He then approaches Laura, sitting in the back seat of his patrol car, and tells her to put her hands behind her back. He arrests her.
The Trooper discovered a small magnetic key holder, underneath Laura's driver side door. Inside were two bags of methamphetamine.
"I had heard previously, even a couple of months before, that [my ex husband] was going to set me up," said Laura. "He was trying to have drugs placed into my vehicle."
Laura and Jeff Covington were officially divorced in 2011, sharing custody of their two children.
Trooper Clary then searches Laura's car with a K9. Her mom, driving by, sees the stop and pulls up.
Dash cam video picks up Laura's mother telling Clary that she feared her daughter had been set up. She asks the Trooper of the key-holder where the drugs were found can be fingerprinted.
After she's arrested, Laura is taken to Madison County Jail.
"I was there from 8am to 5pm," she said. so a whole day? "A whole day."
With Laura in jail, things still didn't add up for Trooper Clary. That same day, he writes a memo detailing what happened and alludes to Laura's mother's comments about a possible set-up.
Soon after, he contacts the Texas Ranger.
The facts didn't also add up for Laura's newly hired defense team of attorneys Paxton Adams and Billy Carter.
"When you learn that the key holder the magnetic key holder had mud on it and it hadn't rained in Madisonville for 2 weeks," Paxton Adams adds.
And there's the lack of police assistance. The dashcam video shows numerous Madisonville PD cars driving by the scene, but none stop to assist. Texas Rangers said that was against police protocol.
"What Jeffery Covington did is two days after this arrest, he filed an ex parte motion with the court to take custody of the kids from her," said Adams.
"It was like being backed into a corner. You know, here you are and you've done nothing wrong other than try to be the best mother you can for these children and they're ripped from you," adds Laura with tears in her eyes.
Laura went without seeing her kids for five weeks.
But Trooper Clary reenters the picture. In her hearing to regain custody, Trooper Clary testifies about the traffic stop and says that he believes Laura was set up.
"The arresting officer says 'I don't believe those were her drugs.' I can't remember ever having an officer testify that way about an arrest," said Billy Carter, one of Laura's attorneys.
Laura's charges then unravel. She passes a hair follicle test, showing her system was clean of any drugs. The State Attorney General's office declines to prosecute her.
A man with multiple drug convictions Madisonville, Jeremy Kidd, admits to planting the drugs under Laura's car. He testifies that Laura's ex-husband's police colleagues offered to go easy on him in future cases if he placed the drugs underneath her car.
Covington and his friend Justin Barham, an investigator with the Madison County DA's office, ARE charged in connection with[MC1] planting the drugs. Jeff was convicted on one count and sentenced to 30 days in jail, plus 5 years probation.
Laura now lives in the Brazos Valley with her new husband and three kids. She sued the City of Madisonville, the Madisonville PD, Covington, and Barham for violating her civil rights.
The City of Madisonville and the Madisonville PD were excused from her case. Her attorneys are appealing that decision.
"There were several times that someone should have done something or should have been alerted to something that could have prevented this," said Melissa Azadeh, a civil rights attorney representing Laura alongside her colleague Larry Watts.
"It still connects with be because I was fiercely protective of my children. And, to have them taken from me for those 5 weeks was almost like – like there's a strain on our relationship with my children," said Laura. "And it shouldn't be like that. There's always this fear, 'is someone going to take them again?'
***Facts in the above story come from court records, police reports, official documents, evidence, and dash camera video obtained by KAGS.***