BRYAN, Texas — The severe weather that passed through the Brazos Valley caused at least one tornado to touch down in Burleson County and may have spawned other twisters throughout Texas. The storms also brought heavy rain that resulted in flooding, hail and wind that caused damage throughout Friday and into Saturday as it passed through the southern United States.
At least 11 people have been reported as being killed in this strong line of storms, including three people in Texas. Two of those were first responders, killed while they were responding to a rollover crash in Lubbock. Another person died in Dallas after their car flipped into a creek. In Burleson, a lightning strike is believed to have caused a massive house fire.
Here's a look at the damage left in the storm's wake and how it has been affecting people not just here in the Brazos Valley and Texas, but across the country.
National Weather Service confirms EF-1 tornado in Burleson County
The National Weather Service-Houston-Galveston has confirmed an EF-1 tornado touched down in Burleson County near Caldwell. KAGS viewer Dana Montgomery Levering sent us photos of damage and we went out to the site.
Tornado damages property in Caldwell, TX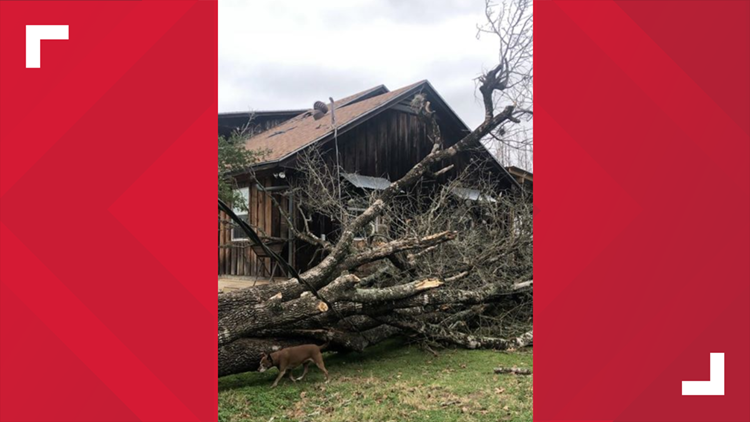 The NWS surveyor said the tornado traveled .11 miles and caused a path of destruction about 100 yards wide, however, it was enough to destroy a shed and snap several trees in half. The tornado also tossed around a trailer and caused other debris to scatter in the area.
Brazos County Emergency Management Coordinator Michele Bailey-Meade said damage was reported in Bryan and College Station. Two people inside their house during the storm had a trampoline come through their roof in College Station. Damage reports included downed trees and power lines. On FM 1179 from Grassbur to Elmo Weedon, there were reports of roof damage, a flipped trailer and an RV on its side. Bailey-Meade also said overhead doors from two storage units were removed.
American Red Cross in Navasota
With temperatures dipping into the 30s Saturday night, some people who live in Navasota and near Grimes County are still without electricity after Friday's storms rolled through.
The American Red Cross has opened a shelter at the Navasota Center at 101 Stadium Drive. People will have a warm place to stay until power can be restored to their homes. Red Cross Executive Director AJ Renold is in Navasota, helping people find a place to stay.
"I've been in one Navasota neighborhood for six hours," Renold said in a news release. "Seventeen houses are still without power with half a dozen people looking to take shelter."
No reservation is need to stay at a Red Cross shelter and you can just show up at the door, but there are a few things you need to know. While service animals are accepted with their owners at the shelter, other pets are not and the Red Cross asks you to make arrangements for your pet before coming to the shelter. Illegal drugs and alcohol are also not allowed.
Storms across Texas
This weather system affected a large part of the Lonestar state, and brought tragedy even after it moved out of the area.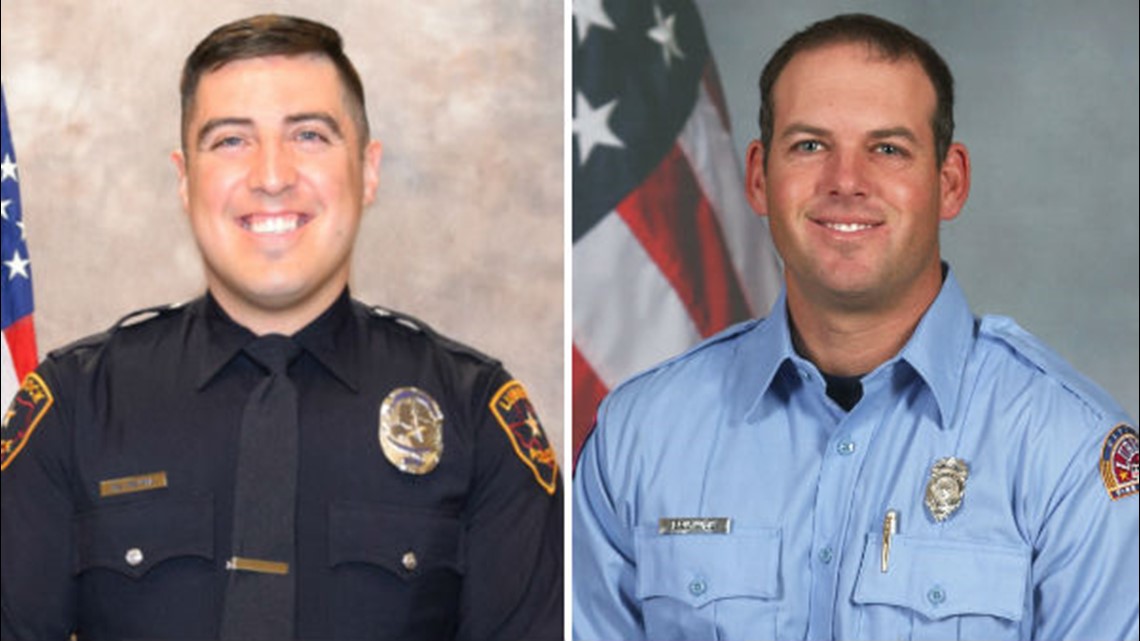 Lubbock police officer, firefighter killed responding to crash
A Lubbock police officer and firefighter were killed while responding to a crash Saturday morning. Authorities say snow and icy conditions contributed to the hazardous driving conditions.
Officer Nicholas Reyna, 27 and firefighter Eric Hill, 39, have been identified as those who were killed. Firefighter Matt Dawson, 30, was taken to the hospital in critical condition. The three were responding to a single vehicle rollover crash on Interstate 27 just before 8:30 a.m.
While they were investigating, another vehicle with a trailer attached was traveling southbound and crossed over the median into the northbound lane where the crash was. The vehicle was able to stop, however, as the first responders spread out to work both crashes, a third vehicle crossed over from the southbound lanes and hit Reyna, Hill and Dawson.
Officer Reyna had been with the Lubbock Police Department for a little more than a year. He died at the scene. Hill had been a firefighter and paramedic with Lubbock Fire and Rescue for 10 years. He was taken to the hospital but later died from his injuries.
Fire Chief Shaun Fogerson said he wished people would just take the time and slow down when driving on snow and ice. "It's a huge loss for the public safety community here and it was very unnecessary." he said. "If people would respect road conditions. Things like this wouldn't have to happen."
Police Chief Floyd Mitchell said his department will try to help other officers and first responders who were on scene get through this tragedy, as well as the men and women who worked with Reyna and Hill.
"The people who put on this badge, the people that put on that badge, they give their lives to their communities. We are true servants," Mitchell said.
Lightning strike suspected in massive house fire in Burleson
In Burleson, Texas, fire officials believe a lightning strike caused a massive house fire. The call for help came in around 7:30 Friday night as the storms were moving through the area. While it's not yet confirmed that lightning was the cause of the blaze, investigators said it was the likely cause. No one was hurt in the fire. Another house fire in Mansfield was also suspected to have been started by a lightning strike.
Storms hit Dallas, Houston area bringing death and destruction
One person was killed in Dallas after their car flipped into a creek in the Oak Cliff neighborhood. Dallas police said two people were in the car when it landed upside down in Five Mile Creek. They were taken to the hospital, but one died from their injuries while the other is listed in stable condition.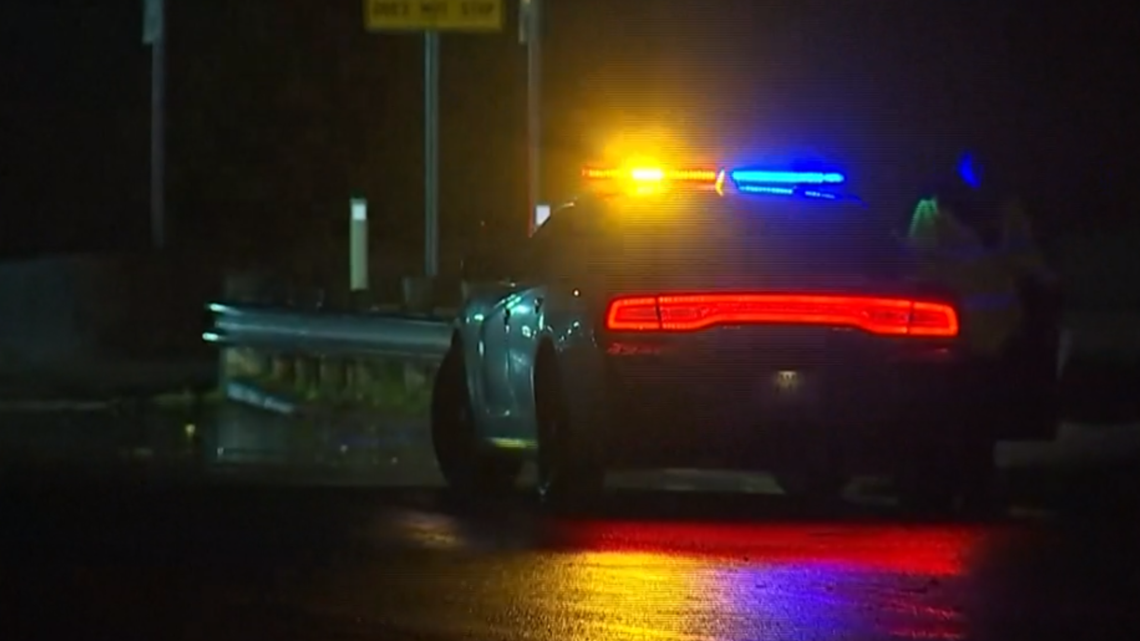 Strong winds of up to 60 miles per hour in Houston knocked down a metal canopy at a gas station. While tornado warnings were issued in the Houston area, there are no confirmed reports that one touched down. Firefighters cleared the scene of the gas station after they determined there were no gas leaks.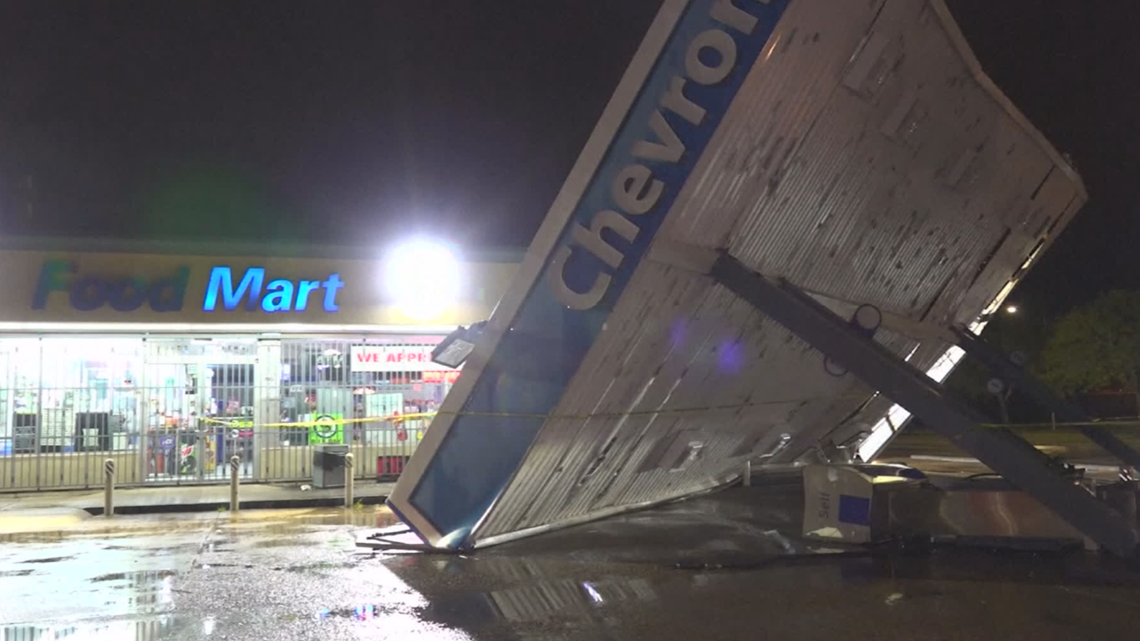 Storm system also brings snow to northern parts of Texas
In case we didn't have enough crazy weather on Friday, the system also brought snow early on Saturday morning. While the snow and ice did cause hazardous driving conditions, people living in north Texas took time to get outside and enjoy it as much as they could before it was gone.
After a strong cold front moved through Friday into Saturday, that rain turned to snow, causing a light blanket to accumulate on the ground.
Weather so delightful? North Texans have snow fun!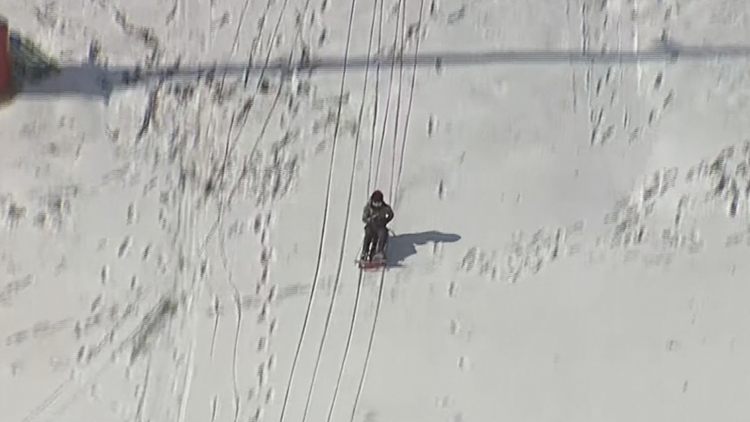 Close call...not here in Texas but still worth a look!
Doorbell video taken in Vestavia Hills, Alabama of this storm as it moved into the area shows a close call with Mother Nature. Daniel Cambron captured the moment he walked into his home and missed getting hit by a falling tree limb by just seconds.
As the tree limb fell to the attached deck, it shattered into several pieces. Cambron is okay, but takes a second to poke his head out the door to see what happened.
The video is proof it's not just during the storm, tornadoes or lightning strikes that can be dangerous. Cambron said this was just before the storm hit as the wind was beginning to pick up.
If you have any storm damage or pictures you'd like to submit, please email us at news@kagstv.com.
JANUARY 10, 2020 STORM COVERAGE ON KAGSTV.COM: