BRAZOS COUNTY, Texas — After a cool Saturday, temperatures will begin to increase Sunday afternoon as a warm front lifts north. This warm front will allow temperatures to climb into the 80s for most areas. The moisture will be noticeable higher as well making it a tad uncomfortable outside. No rain is in the forecast Sunday.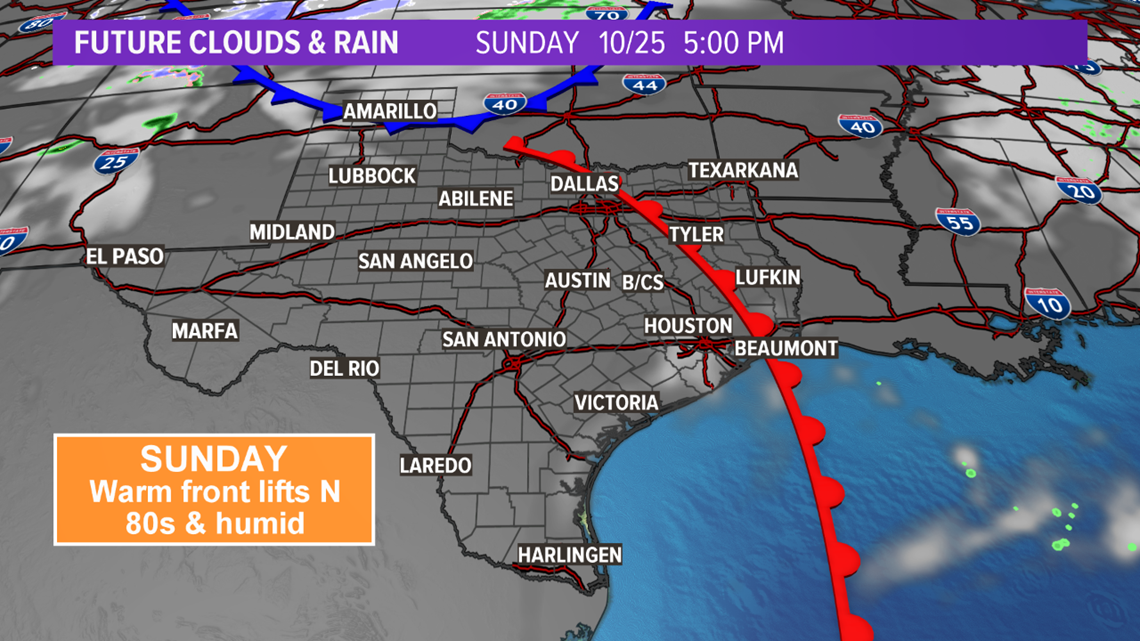 This warm up will occur ahead of an Arctic cold front that is forecast to move into Texas late-Sunday into Monday. This cold front will move into the Brazos Valley by Monday afternoon/evening. Temperatures behind the cold front will fall into the 40s & 50s. It will feel even more uncomfortable due to the northerly breeze and rain showers behind the cold front. Wind chills will be in the 30s for the western-half of the Brazos Valley by Monday night. It appears the cold front will stall near I-45 Monday evening, which will keep temperatures milder for eastern parts of the area. It will likely be in the 60s.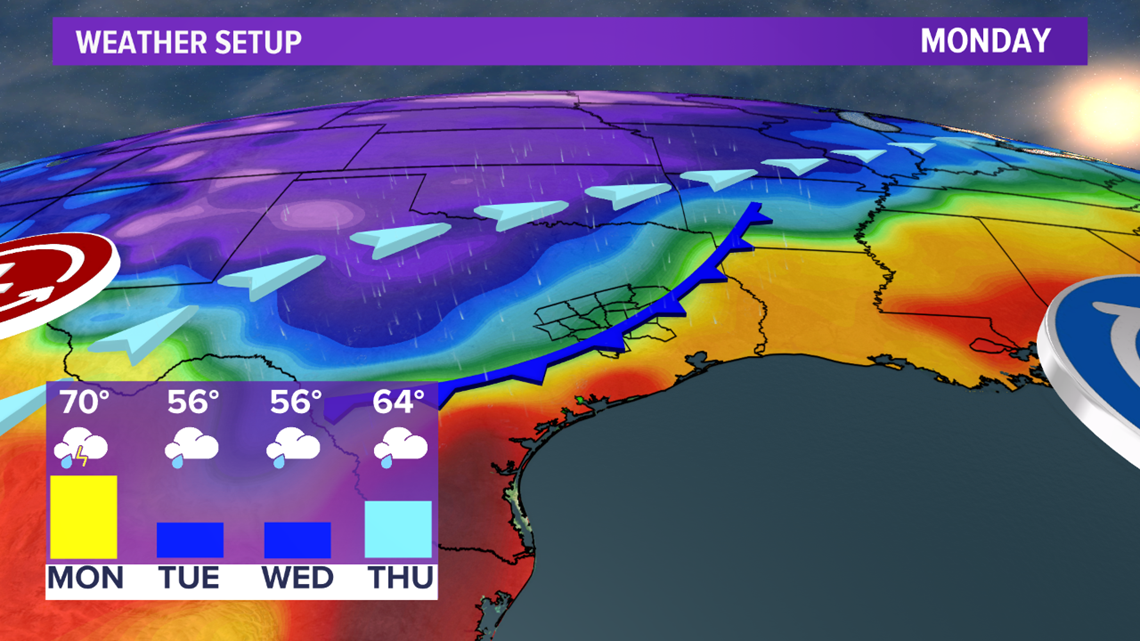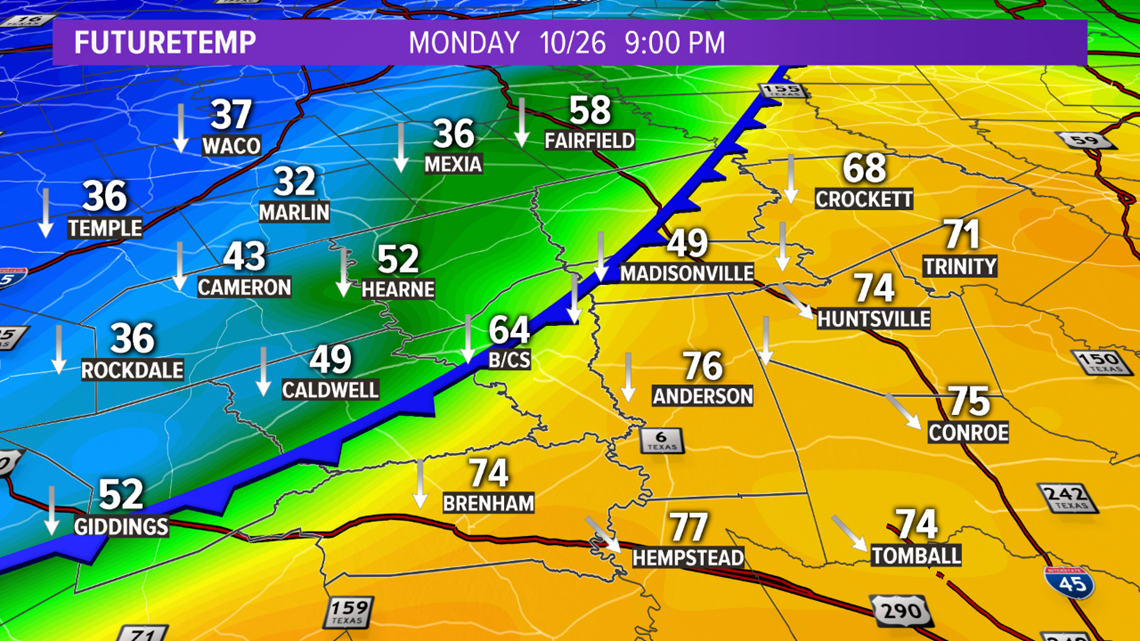 The stalled front will dance along the I-45 corridor Tuesday and Wednesday. This makes the temperature forecast extremely difficult to forecast. Right now, it appears temperatures will remain in the 40s near the I-35 corridor while temperatures are in the 60s (maybe close to 70) closer to I-45. In between these two areas, this includes Bryan-College Station, temperatures will likely remain in the 50s for highs (possibly flirting with 60). The winds will make it feel uncomfortable for the western-half of the area; wind chills will be in the 40s & 50s during the afternoon hours on Tuesday and Wednesday. Morning wind chills will fall into the 30s. The rain chances will stick around, too, due to a southwesterly flow aloft ahead of the upper-level system. This will keep it gloomy and damp not only on Tuesday but through Wednesday into early Thursday.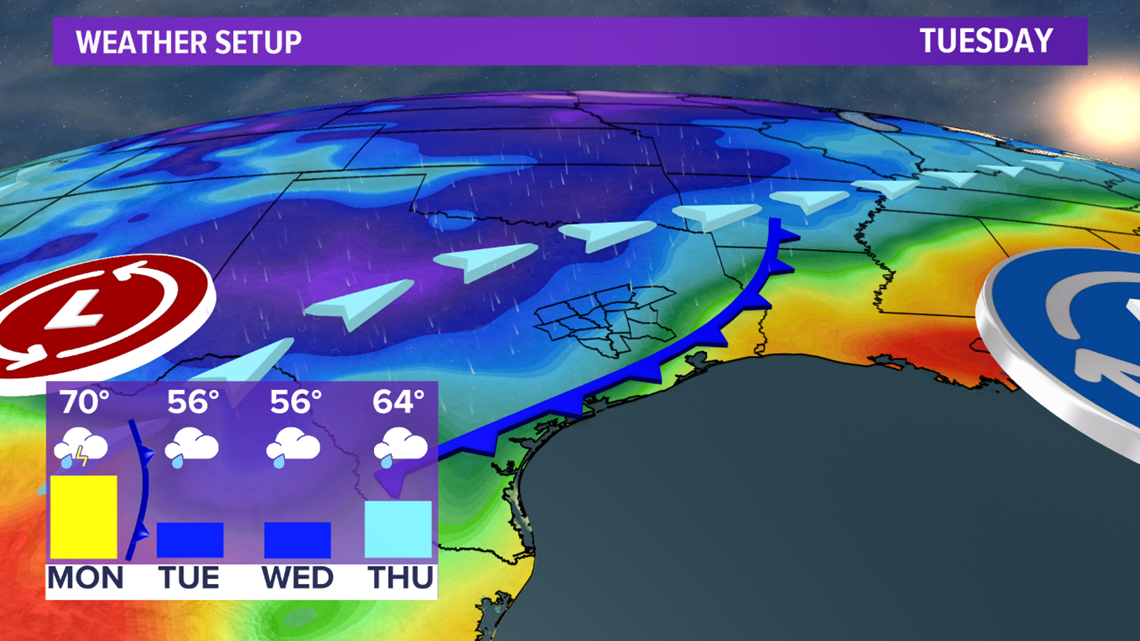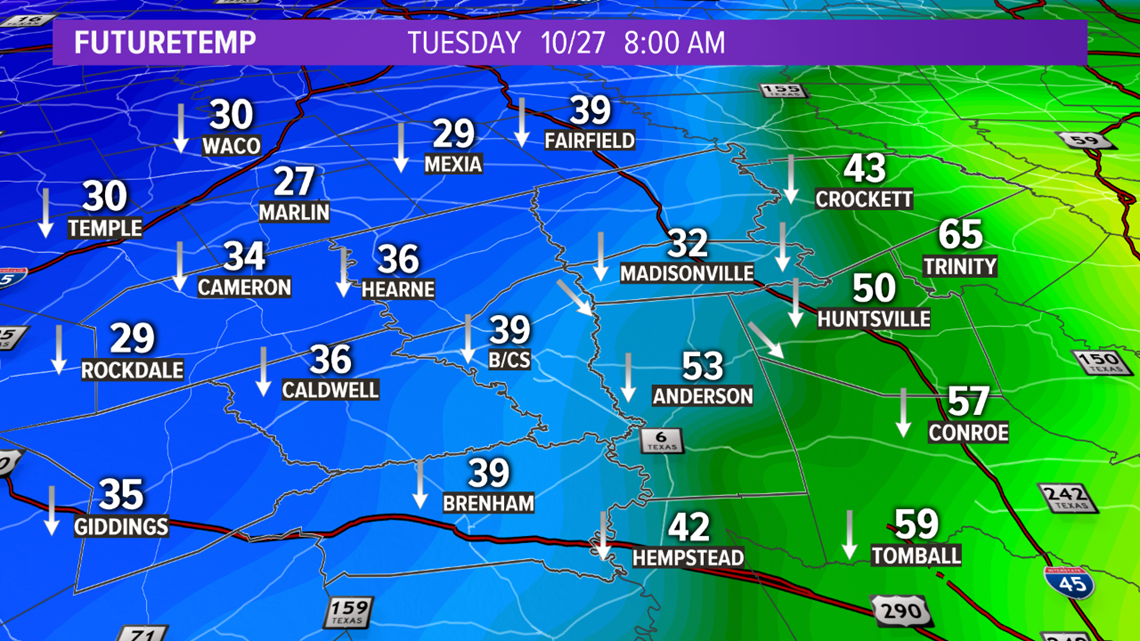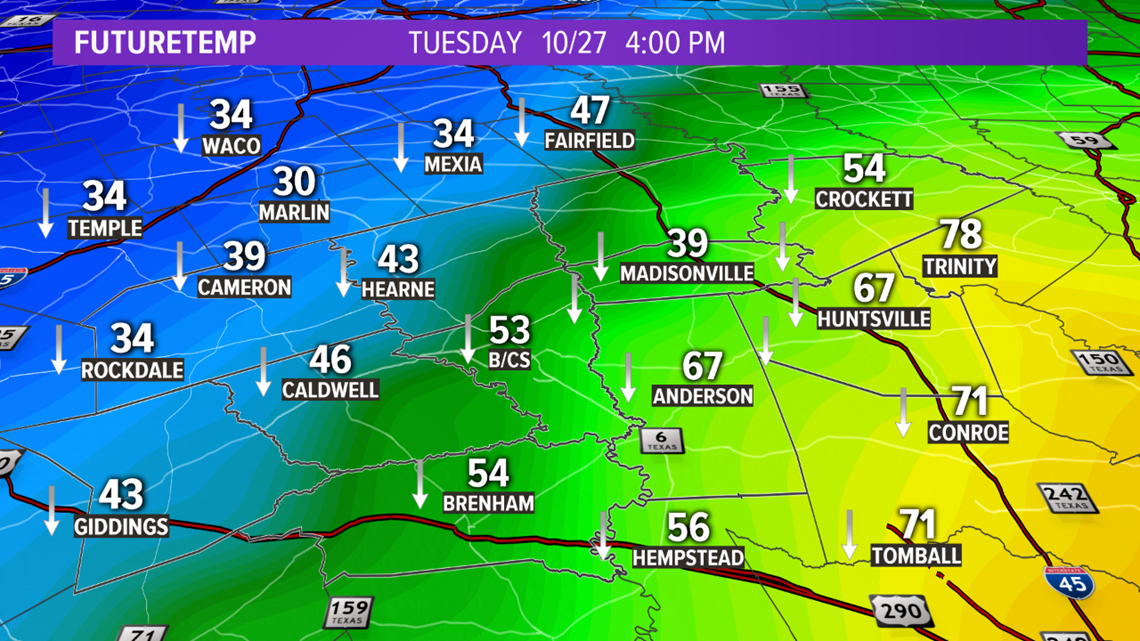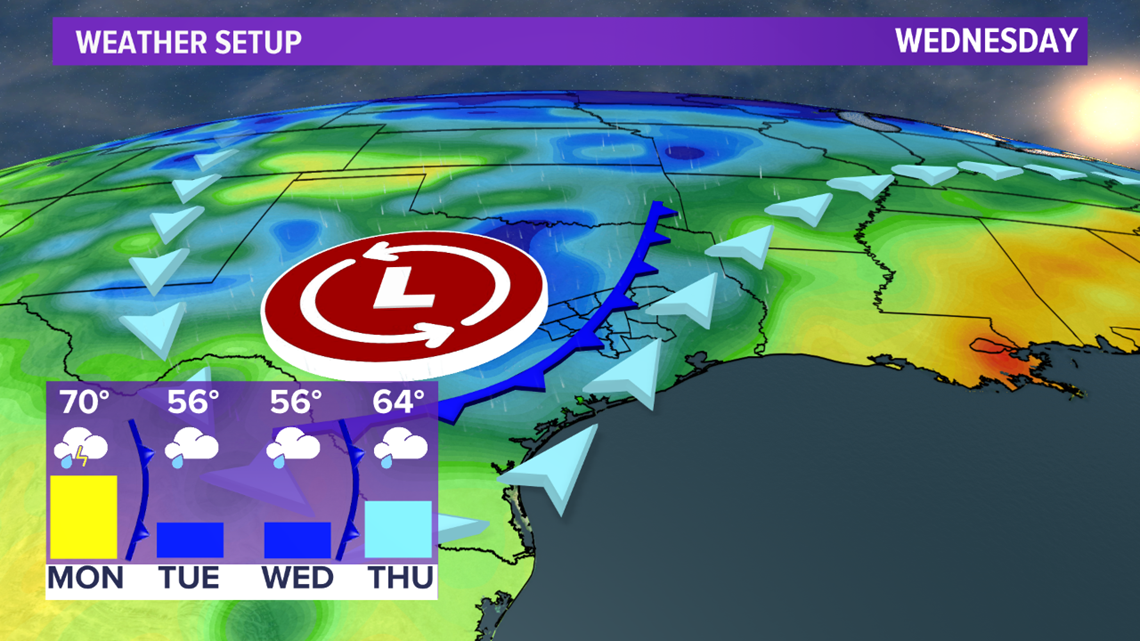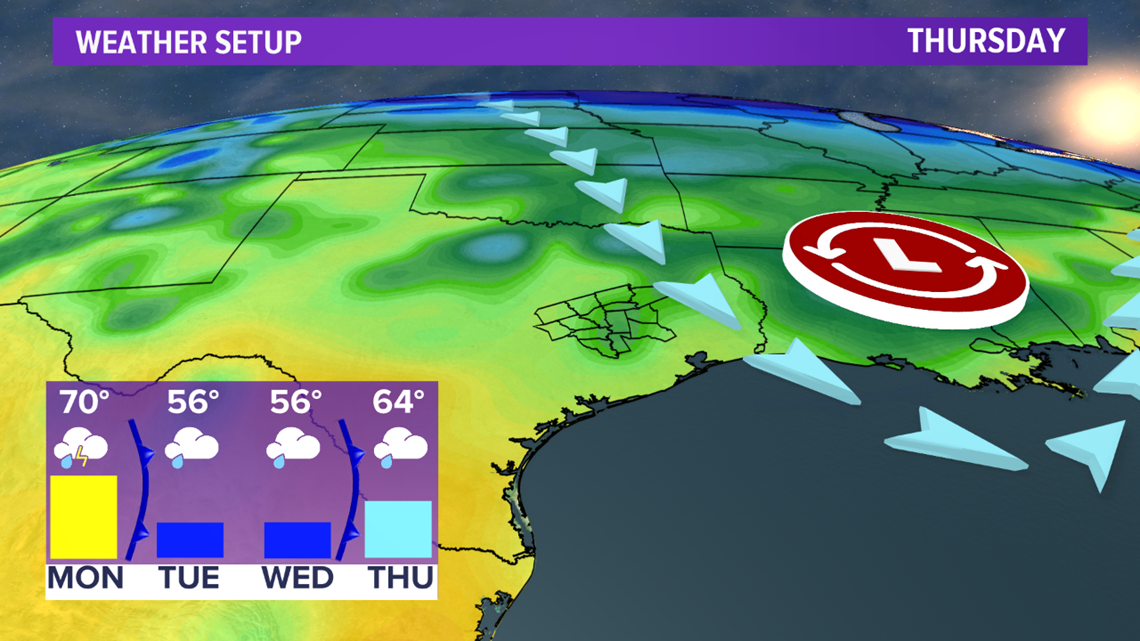 Rain accumulations will be around 0.25-0.50" for the Brazos Valley. The northern zone will be favored for the highest rain totals. Heavier rain is expected across northern Texas.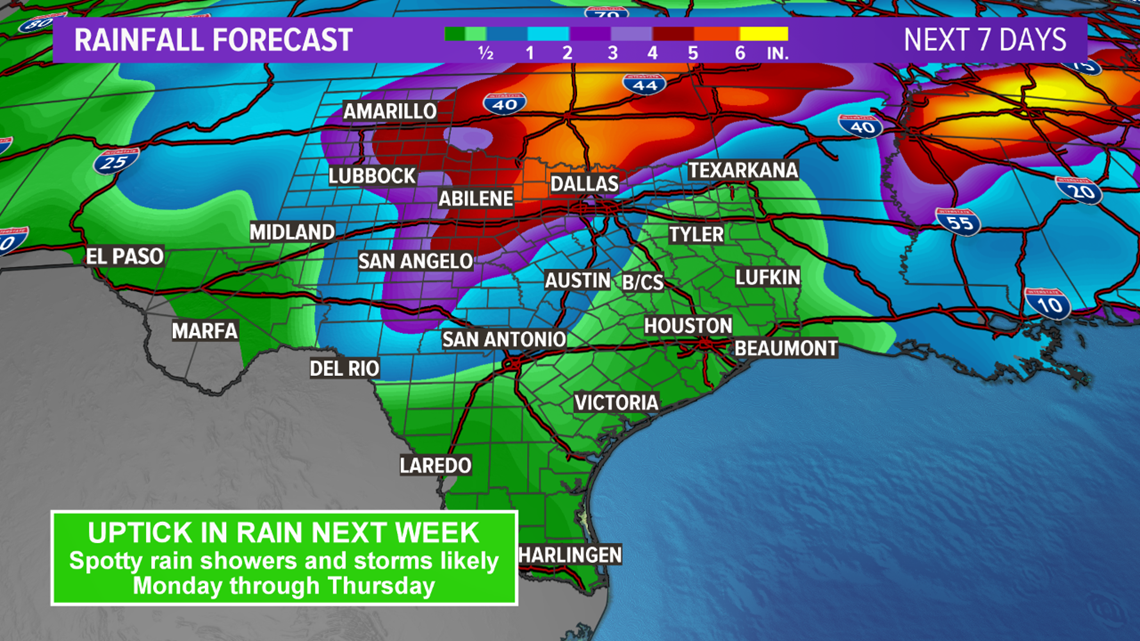 Farther north and west, in the Texas Panhandle, snow, sleet and freezing rain is possible due to the colder temperatures. Light accumulations are a possibility. Plan ahead if you have any travel plans to that part of the state. (Please note: some of the accumulations are augmented due to ice)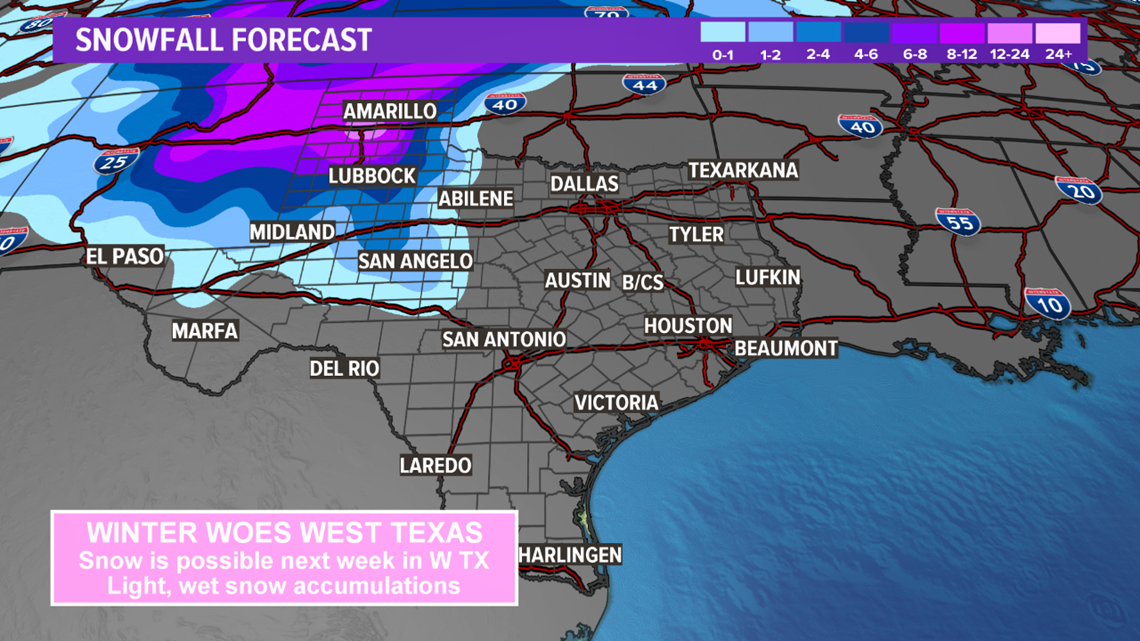 Make sure you're prepared for the cold weather. Check the heaters!