NORMANGEE, Texas — CHI St. Joseph is providing Normangee Independent School District with five Stop the Bleed Kits. Texas legislation that passed this fall requires all school districts to equip their campuses with these kits and also train and develop procedures for how staff will utilize them.
"We have five aid stations based around our small school districts. Obviously, we've got all kids from pre-k to 12th grade in one facility and so five kits going with each aid station made a lot of sense to us and it will definitely provide the equipment we would need in case they would ever need to be used," said Mark Ruffin the Superintendent of Normangee ISD.
Ruffin realized the school budget the district had set did not include funds for these kits. So he reached out to CHI St. Joseph.
"CHI St. Joseph stepping up to help support us in this was definitely a huge benefit to us for not having foreseen this expenditure down the road when we built that budget," said Ruffin.
"the tourniquet is a combat tourniquet," said Fawn Preuss, the Healthy Communities Manager at CHI St. Joseph. "These are actually used in field. They are very user friendly, someone can learn how to use one of these in thirty seconds. They're very easy to use. You strap it on, you tighten it down, and you write what time you put them on."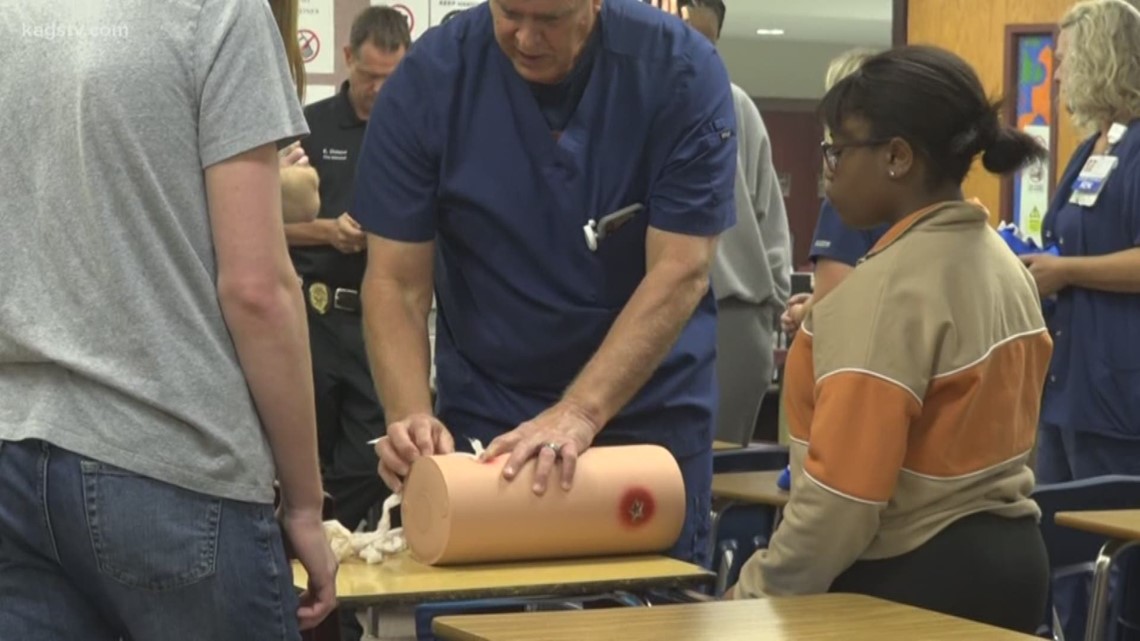 These kits are specially ordered and come in three different levels, with each level containing different items.
"I think it's huge, we have so many awful things happening across the nation right now, especially active shooter situations," said Fawn. "If they had a kit like this, it's literally life or death. So if someone has a bad enough bleed, they can bleed out in three to five minutes. Well in a situation that's uncontained, help is probably not going to arrive in three to five minutes so this can be life or death."
Each bag has a list of instructions to follow so that under any circumstance, anyone can help.
For more information on Stop the Bleed kits and the organization, click here.